Water Damage Restoration Services
Water Damage Restoration Services
The water damage restoration process is much complicated than you think. You will need to pay attention towards a variety of factors while dealing with the frustration associated with created mess. Your home could be subjected to water damage in different ways. It could be an overflow, flood or any other form of damage caused by water. As mentioned earlier, you will have to go through several procedures during the restoration process such as loss assessment, defining the extent of damage with contamination levels, decontaminating and drying the structures along with content and monitoring the entire process. You would not be able to work on these steps on your own and that's why you need to seek the assistance of a professional service provider.
Water Damage Restoration Done The Right Way!
Flood water removal can be considered as the first step taken during the water damage restoration process. Our company is equipped with all the tools that are required to help people in San Antonio, TX get rid of water in an efficient manner. We can even assist you to get rid of water in an entirely submerged area within few hours. This would help you to prevent the damage from spreading.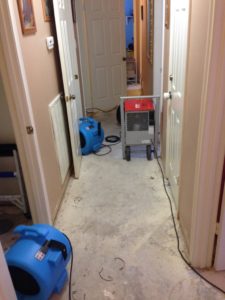 Once water is removed, moisture mapping is done. During this process, we use specialized detection equipment in order to get an approximate idea about the moisture values in your property. Then we will be able to analyze how bad the damage is. It will assist us to take necessary measures in order to prevent the growth of mold as well. Along with this process, we conduct mold inspection and removal at your property. If unaddressed, residual water can lead you towards mold damage. We have special detergents, which have the ability to sterilize the area of mold damage and create unfavorable conditions for the growth of mold.
Call us for help with your water damage in San Antonio, TX. 210-660-3663
Our company offers a variety of water drying techniques for the people in need. Using evaporators, which are also known as air movers hold a prominent place out of them. With evaporators, we will be able to control the humidity in your water damaged home and promote effective circulation of air. This includes removing water from porous materials such as plaster, drywall, wood and carpet as well. Then we use dehumidifiers with the objective of removing moisture from air. This can create favorable conditions within the home for you to live.
Water Damage Restoration

 Services in San Antonio, TX.

As you can see, we offer a variety of water damage restoration related services for the people in San Antonio, TX. Depending on the extent of water damage, you will also need to go through additional repairs. However, you don't need to worry about anything because we have got you covered. Any person who has gone through water damage can therefore think of contacting our professional services. We will take necessary steps in order to restore your home back to the original condition and help you keep peace of mind in the long run.

Call us for help with your water damage in San Antonio, TX. 210-660-3663